We passed our ISO audits and our 'Certifire Certification' with Warrington Fire this year.
Here at Essential Design Group we take pride in everything that we do.  Our products are all of an extremely high quality and each year we take all measures possible to ensure that our products have the highest safety regulations.
In early winter 2020, we were delighted to pass our ISO audits for another year running.  It is always a great sense of achievement to pass them.
There are many businesses across the UK & Ireland who stock and sell fire doors.  However, for many of these businesses – no safety certifications come with these fire doors.  This means that the purchaser has to then after purchasing the fire doors, go and get all of the paperwork to say that the fire doors are safe for use.  This can be a lot of hassle for the buyer.  Essential Design Group takes all of the hassle out of this process.  With our fire doors, they come already safety regulated which saves time for the buyer.  We go through tests every year with Warrington Fire to ensure that all of our fire doors are safety regulated.  It is therefore great each year to receive our 'Certifire' which is a product certificate from Warrington Fire for passive fire protection.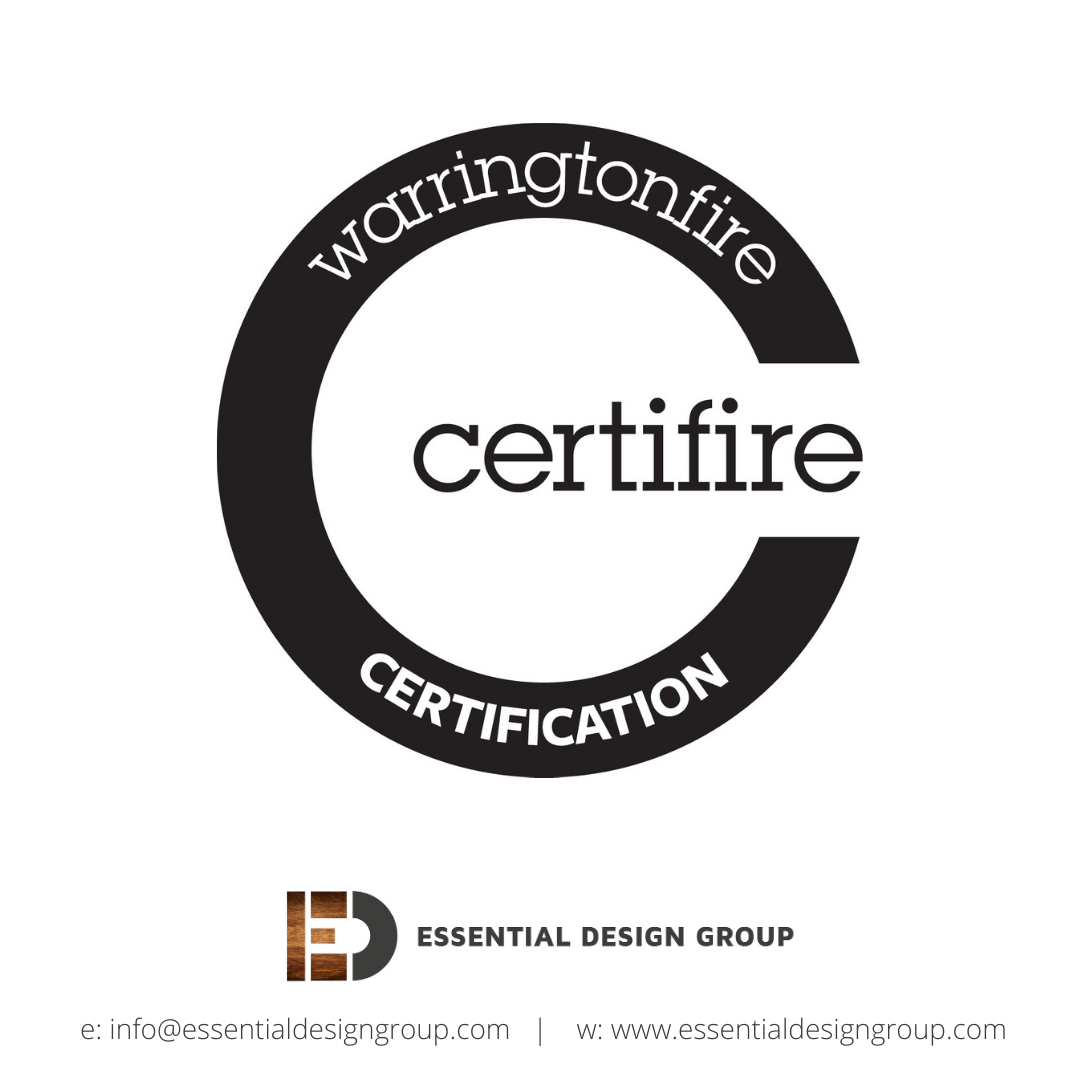 Improve your Construction Growth:
'Certifire' is an independent third-party certification scheme that assures performance, quality, reliability and traceability of products and systems.  The 'Certifire' brand from Warrington Fire is recognized by regulatory authorities worldwide as an international mark of fire safety across a diverse range of products including hardware.
The fundamental benefit of 'Certifire' is seated in giving the regulator, specifier, customer and end-user confidence with regards to the stated performance of the product and provides an informed choice when purchasing or selecting the product.
As stated on the Warrington Fire website, choosing a product that carries the mark of a reputable third-party certification body gives assurance as to the performance of the products. Using certified products, correctly installed, provides a powerful demonstration that due diligence's have been served.
For those of you who do not know us:
Essential Design Group, are a leading manufacturer in the UK & Ireland of fire doors and we also specialise in a wide range of bespoke joinery solutions to businesses.  Both our fire doors and joinery divisions operate across the UK and Ireland and our Headquarters is based in Magherafelt in Northern Ireland.  Essential Design Group are also leaders in glass solutions.  To date, our glass division has primarily operated in the commercial sector.  However, 2020 marked the launch of our glass division into the residential market in Northern Ireland.  So, if you are looking for bi-fold doors, patio doors, glass balustrades, glass balconies, roof lights or glazed canopies for the front or back of your property, contact us today .