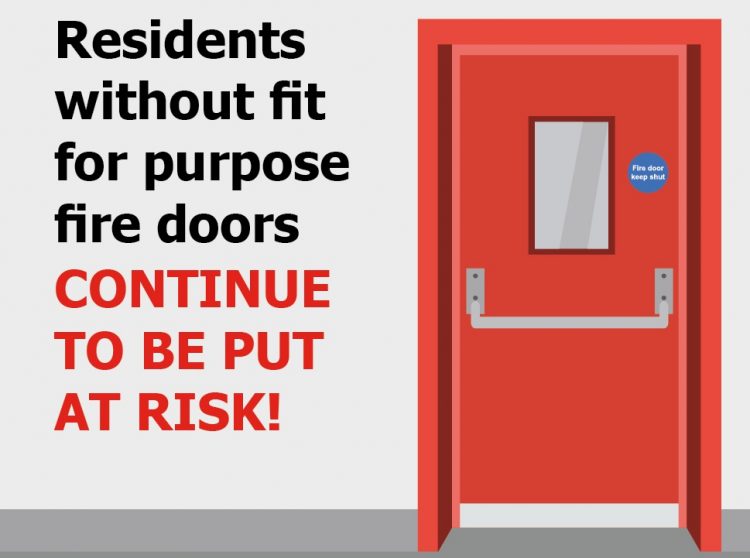 Fire Door Safety Week
Each year at Essential Design Group we support Fire Door Safety Week.The purpose of Fire Door Safety Week is to spread the message of the importance of fire doors in saving lives and protecting property.
Here at Essential Design Group, we are a leading manufacturer in the UK & Ireland of fire doors which are fully certified.  We manufacturer our fire doors at our premises in Northern Ireland and each year we are tested by an independent body and an annually audited quality management system also takes place to ensure that our fire doors are up to the highest standards.
Fire Doors help to protect lives and property. For Fire Door Safety Week in 2020 which ran from the 21st -27thSeptember, 2020,we had a strong marketing campaign on our social media channels in order to raise awareness. Fire Door Safety Week also conducted research into the state of fire door maintenance, replacement and inspection programmes across local authority owned and managed housing in the UK.
The research conducted from Fire Door Safety Week looked at planned fire door works and inspections between January and June, 2020.  They also looked to see if any delays had occurred in fire door installations, and if they had, what number of fire doors were affected and whether plans for recommencing scheduled works had been put in place.
The findings from the research showed overall that 60% of local authorities delay fire door programmes – leaving safety to chance.
As per the Fire Door Safety Week Website, according to the data obtained from 147 local authorities that own and manage their own housing stock, at least 26,318 fire doors were scheduled for maintenance or replacement between January and June 2020, but 16,580 did not progress – meaning 63% of individual planned works were delayed until at least the second half of the year, affecting a minimum of 9,954 individual properties.
In addition to delays to maintenance and replacement in the first half of the year, 31% of all responding local authorities stated their fire door inspection programmes were delayed, affecting at least 12,596 fire doors.
 Of those local authorities that experienced delays, 65% intend to commence works by the end of the year. This signals that the majority recognise the importance of properly fitted and maintained fire doors. However, worryingly 31% of local authorities stated that they are yet to define a date for recommencing the planned works.
If you are living in a building and your believe there to be a problem with your fire door please report it straight away and we would also encourage you to check the Fire Step Fire Door Check on the Fire Door Safety Website which will help you to identify fire doors which are not fit for purpose.
#FireDoorSafetyWeek #EssentialDesignGroup